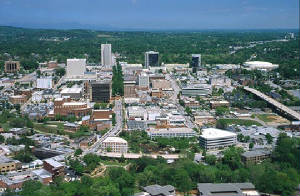 Greenville, South Carolina
Covington Commercial Realty has been serving the upstate of South Carolina for 25 years now and it has always been our policy to operate professionally, to the best of our ability, with the highest ethics and honesty possible. To us, creating outstanding client relationships is more important than any financial consideration in our business.

What separates us from many other firms is our hands on approach, our ability to flex with our clients needs, and an instant response to any inquiries made on the properties we represent. Should a prospect ask for a copy of a lease to review, they receive it within two hours.

Our focus is office and office/warehouse or flex space and retail. President Chris Covington's 35 years of experience as well as the insight provided through the CCIM designation allow us to be pro-active in decision making. We take pride in our quick response to negotiate with a prospect as soon as they become qualified.

The business was founded as a Tenant Rep/Buyer's Broker focused company over the first four years. We offer 10 years as the Landlord's agent to benefit our clients from the 'other side' of the negotiating table. Remember, 'The penalty for a bad lease agreement is......3-5 years!'

From marketing property, to qualifying prospects, to negotiating leases, and following through with lease execution, our reputation gets the job done!